What goes perfectly with reggae and rich food? Rum….and The Island Spot has a lot of it!
Rich food, reggae and rum are the three key cultural aspects of The Island Spot. With over 30 rum labels hailing from 15 different islands at our Rum Bar, it is clear that The Island Spot loves rum. To celebrate the rich history that surrounds this "spirit" we launched our first Ultimate Rum Tasting this month to pour a few flights and vibe with our favorite Island Spotters.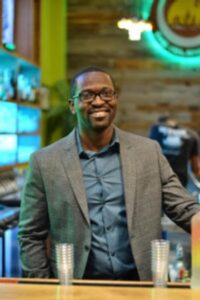 Rum tasting attendees were invited to sample a vast array of Caribbean rums that ranged from    light to dark in both texture and aesthetic. Tasters sampled Appleton's Signature Blend, El      Dorado 5yr, and Cruzan Mango rum while Island Spot Owner Richard Thomas vibrantly detailed how each rum differed in age, style and origin.
The Appleton Estate Rum was a crowd favorite while the El Dorado satisfied spirited palates as well. This complex medium-aged rum was aged for a minimum of 5 years in bourbon oak barrels, changing its taste over time for a drastic finish. Thomas explained that the rum's aging matured and improved the taste of the El Dorado rum overall. When the rum aged in the oak barrels, it attracted the tannins in the wood. This absorption of tannins caused the rum to have a slight vanilla or oak flavor that makes the spirit easier to drink and enjoy. Yum!
Cruzan's Mango rum was the lightest in color and most tropical in our three-tiered lineup. Tasters learned that since the rum was transparent in color, it wasn't aged for a long period of time. Thomas recommends sipping this rum in a chilled glass because the flavors are sweet and tropical. Pair this Cruzan sensation with fresh fruit juices in order to sip a drink that is smooth and refreshing.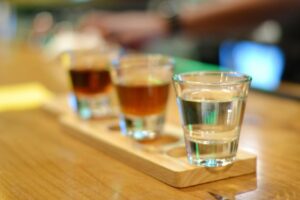 If you are an adventurous foodie, music lover, or spirit connoisseur, let The Island Spot be your ultimate guide to experiencing Jamaican culture like you've never experienced before. This year, The Island Spot will offer more tastings, more events, and more ways for you to be connected and educated to the Caribbean culture. Be sure to subscribe to our mailing list via our website for exclusive updates. All subscribers who elect to receive emails from us will be the first to hear when we are hosting another tasting event!
Yo-ho-ho and a bottle of rum….